Thanks for visiting! You can communicate with me via my e-mail, by phone 805-441-6945, or by signing my guestbook below.
tomslaterphotography@yahoo.com
For SENIOR PORTRAIT SAMPLES AND PRICING - click BELOW for pdf download, or click on "Senior" and "Pricing" pages in left sidebar.
Please click here to download Prices PDF!
The Central Coast SLO 2006 guide book.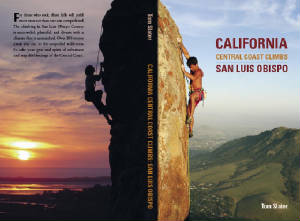 Available in fine climbing stores or Fixehardware.com
The 2006 SLO County guide book is the final product of over ten years of effort and has over 200 pages of text, photos, topos, and a lot of history thrown in. It is available at Mt. Air Sports in SLO, or visit www.fixeusa.com and e-mail them for a copy. Many of the photos used in the guide you can view in the Climbing pages on this site.
click here to download SLO Guide Updates
To purchase this new guidebook to Figueroa Mountain, please email me at tomslaterphotography@yahoo.com. Great new area with over 40 sport, crack, and TR routes on solid rock.